Hurricane Hermine Expected to Make Landfall Tonight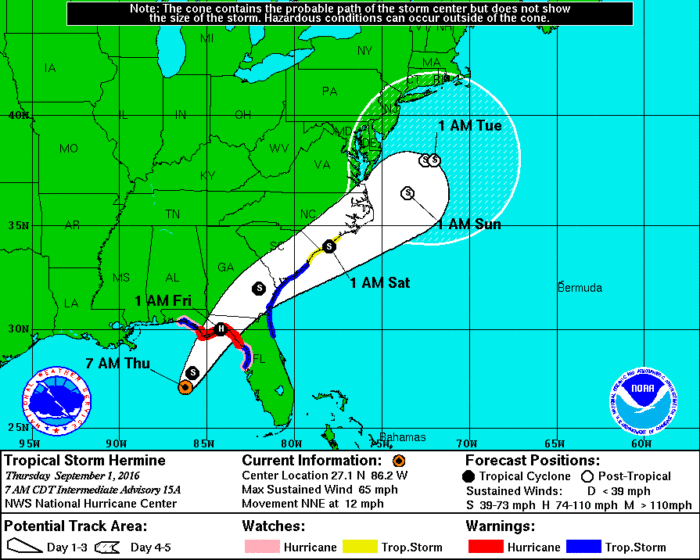 Hermine is expected to make landfall in Florida tonight as a weak Category 1 hurricane. Winds of 45-55 mph with gusts near 75 mph will be possible as well as heavy rainfall, high seas, and even tornadoes.
The potential for flooding is very high in coastal areas as anywhere from 6-10″ of rain is possible, with some isolated locations picking up closer to 15″ or even 20″. Low lying areas will also be prone to storm surge flooding.
The combination of storm surge and the tide will cause many normally dry areas to become prone to dangerous flooding. The NHC says, "there is a danger for life threatening inundation over the next 12-24 hours along the Gulf Coast of Florida from Aripeka to Indian Pass."
To view storm surge model guidance for Hermine, visit this site.
Mandatory evacuations have been issued for parts of Franklin and Taylor counties in Florida. Wakulla County, FL has issued evacuation orders for low lying coastal homes.
Florida Gov. Rick Scott has declared a State of Emergency in 51 counties as flooding has already begun in some places. Gov. Nathan Deal of Georgia has declared a State of Emergency for 56 counties.
Along with high winds and flooding, tornadoes are also a possibility. The SPC has highlighted a tornado risk area in northern Florida, where a few tornadoes will be possible especially later this afternoon through early tomorrow morning.
Follow us on Twitter for the latest information.