Hurricane Watch for Coastal Texas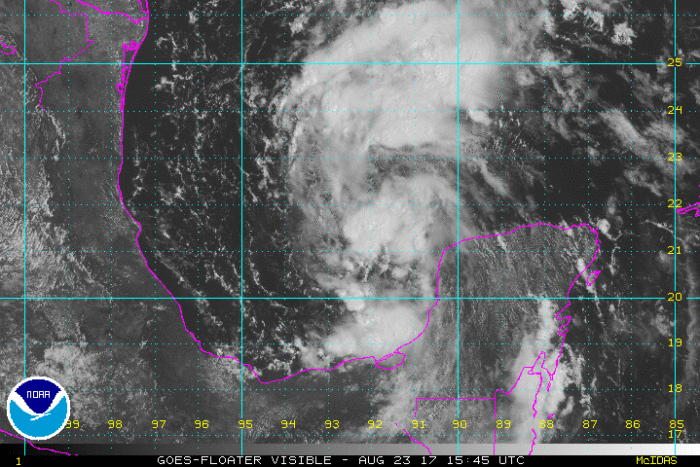 Hurricane Hunter's confirmed this morning that Harvey has restrengthened into a Tropical Depression. At the moment, Harvey is not well organized. However, the conditions in the Gulf of Mexico are favorable for intensification as Harvey moves over warm water and through a relatively low shear environment.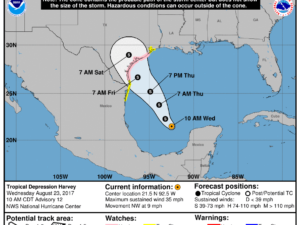 Based on Harvey's current forecast track, watches have been posted along parts of the Texas coast. A Hurricane Watch is in effect from near Port Mansfield to San Luis Pass. A Storm Surge Watch has also been issued from Port Mansfield to High Island. A Tropical Storm Watch is also in effect from the Mouth of the Rio Grande to Port Mansfield and from San Luis Pass to High Island. Harvey will approach the Texas coast sometime late Friday.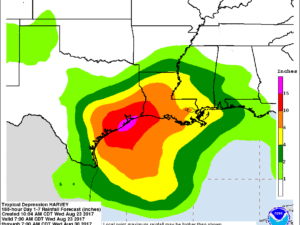 Extremely heavy rainfall is likely. Rain totals of 10-15″ will be possible with some spots potentially picking up nearly 20″ of rain. Areas that could see the highest totals are the middle and upper coastal areas of Texas and southwest Louisiana with rain expected to start early Friday. Rainfall could cause flash flooding.
Storm surge could also cause flooding. The highest surge heights of 4-6 feet are possible from Port Mansfield to High Island.
Stay tuned for updates.