Hurricane Irma Now a Category 5 Storm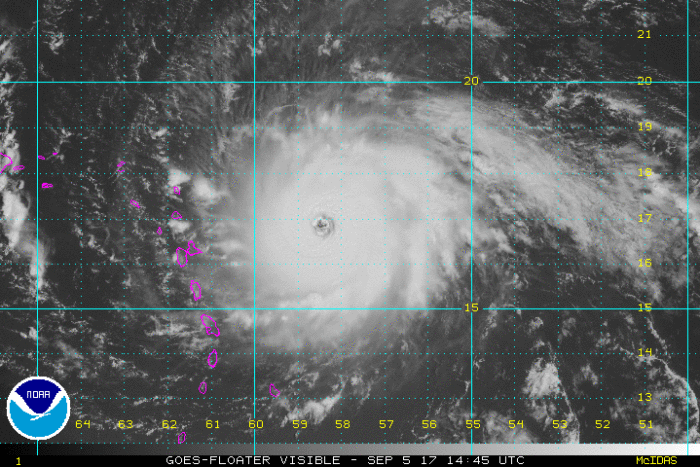 Hurricane Irma strengthened into a Category 5 storm this moving as it continued to move west across warm Atlantic waters. Maximum sustained winds as of 11 AM ET were 180 mph.
A Hurricane Warning is in effect for Antigua, Barbuda, Anguilla, Montserrat, St. Kitts, and Nevis. Saba, St. Eustatius, and Sint Maarten are also under a Hurricane Warning. As are Saint Martin and Saint Barthelemy. The British Virgin Islands, U.S. Virgin Island, as well as Puerto Rico, Vieques, and Culebra also remain under a Hurricane Warning.
Hurricane Watches are out for Guadeloupe, parts of the Dominican Republic and Haiti, Turks and Caicos Islands, and the southeastern Bahamas.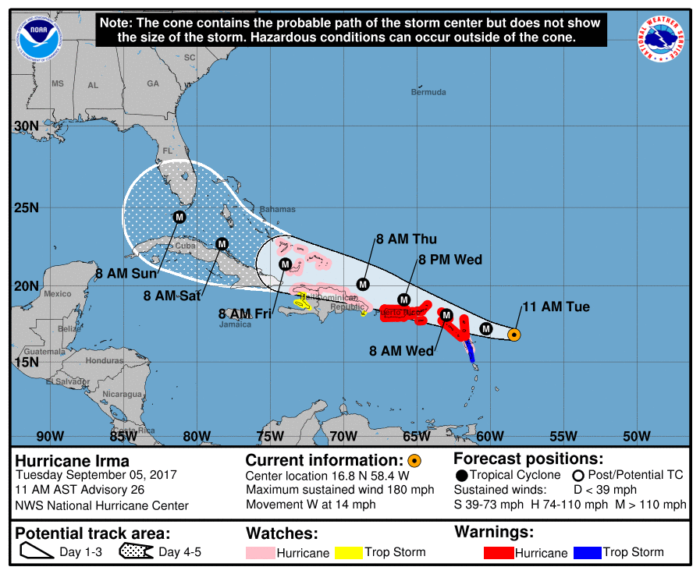 Irma is moving to the west at 14 mph. The center of the storm is expected to pass over the northern Leeward Islands late tonight or early tomorrow. A storm surge up to 11 feet, hurricane force winds, and rainfall of up to 12″ will be possible. The Virgin Islands and Puerto Rico will begin to see conditions deteriorate very quickly tomorrow.
There is the potential that Irma could directly impact parts of Florida, including the Keys, late this week or this weekend. It is still too early to determine exact locations and impacts. It is imperative that Florida residents keep a close eye on Irma. Preparation is key! Make sure you have your disaster kit and plan ready.
Stay tuned for updates.